| | |
| --- | --- |
| Posted on August 25, 2014 at 9:10 PM | |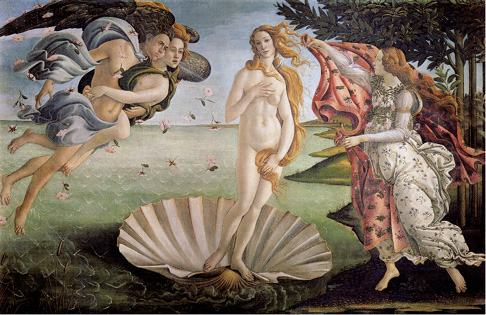 Aphrodite
Goddess of Love

 by Victoria Sikirdji
It felt appropriate to begin this journey of the "Goddess in Every Woman" with "Aphrodite the Goddess of Love" because her image, depicted in the painting "The Birth of Venus" by Sadro Botticelli in 1484, was the inspiration for my business and is the trademark of my product line.
Aphrodite stems from Greek mythology and Her birth begins with the death of Her father Uranus.  In this myth it is said that upon His death He was cast out into the sea and His last drop of semen gave fertility to the waves.  A gentle wind arose transforming into a serpent which then united with the waves and, from the foam of the sea, gave birth to Aphrodite.  She was born laughing with an emanation of pleasure beaming from Her countenance and therefore She is known as the Goddess of Sensuality and Pleasure.  As a Goddess of the sea She is often depicted with cockle-shells to represent Her marine origin and Her female sexuality.  Her Roman equivalent is the Goddess Venus and it has been said that the first rose bloomed with the arrival of Venus, the Goddess of Love, whereupon roses sprang forth from beneath Her feet with each step She took upon the earth.  Thus the rose became a symbol of love.
Because Aphrodite is considered the Goddess of love, beauty and sexuality, all those who lay their eyes upon Her immediately fall in love with Her. 
It is said that She is accompained by a fleet of Cupids who, obeying Her orders, travel the world of humans shooting arrows into mortal hearts thereby making men and women fall in love with each other.  The ancients said that when someone was falling in love they were under the spell of Aphrodite.  When we are under Her spell we become irrational and magnetic in our quest to merge with the other and through this worship we are elevated from human love to Eternal Love and the longing for Unity and Eternity is quenched.
The characteristics of a woman who carries the qualities of Aphrodite are very special in all respects.  She is beautiful, her voice is soft and sensuous, and her movements are flowing, sleek and sinuous.  She exhibits self-love, is loving towards others and has a magnetic energy that attracts many men towards her.  The negative aspects of this archetype are that she can be fickle and may have a history of breaking hearts. 
To call forth and cultivate the Goddess of Love is to embark on the path of self-love by dedicating yourself to the care of your body, tending to your health and well-being, along with enhancing and cultivating your beauty.  Through these acts of self-love and self-compassion you transform, becoming more radiant and beautiful.  Your inner cup becomes full and then flows over to encompass others with a more loving and compassionate nature.  Self-love generates self-confidence and is the greatest aphrodisiac, not only making you feel more desirable but also exuding desirability, no matter what your shape or size.
The noblest qualities of Aphrodite are unconditional love and compassion that pour forth from the Eternal Divine Source.  Like a gift to humanity one becomes a luminous light shining from the inside out blessing all who come in contact with her.  It is from this place one becomes a Goddess in the truest sense. 
You may recognize Aphrodite's Presence in yourself or you may have seen Her Face shining out in others.  You have but to look for Her.  She is there waiting to bestow Her blessing upon you...  giving Rise to the Goddess within. 

Categories: None